Keep Safe During All Your Adventures with Tough Dog Suspension
We strongly believe that suspension is one of the most important additions you can make to your 4WD. Not only does suspension allow for additional accessories and load carrying but it gives you greater ground clearance and great tyre selection.
Tough Dog Suspension is a brand we highly recommend, and as one of the best on the market you can be sure that each time you take your 4WD out on an adventure, you can make a safe return.
Our team at T&G are passionate 4WD enthusiasts and skilled mechanics and can easily enhance the effectiveness of your vehicle's 4X4 suspension – get in touch with us today to know more about our services and why we trust Tough Dog as our brand of choice.
The importance of quality suspension
Many of our customers want to see how far they can push their vehicles, whilst also maintaining the safety and comfort of all passengers. If this sounds like you, you should definitely consider air bag suspension.
With our comprehensive services, directed at improving the stability of your 4X4's suspension, our customers know to turn to us for suspension upgrade installation of the highest quality. We are well aware that handling can be compromised when factory suspension is pushed beyond its (often narrow) limits, so we encourage you to trust our experts instead.
Our team are more than happy to chat with you about your suspension queries, the importance of using trusted brands like Tough Dog, and assist you in tailoring a suspension package to suit the requirements of your specific 4WD vehicle. We are here and ready to help.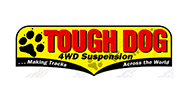 Trust T&G with your suspension requirements
Keep your vehicle safe with air suspension and also practical with roof racks or towbars, and tailor to your vehicle's needs with Tough Dog.
Get in touch with T&G today by calling (02) 4577 5044 or emailing info@tg4x4.com.au. We look forward to helping you with all of your suspension needs.